Nieuw Geneco Fair Practice Award 2023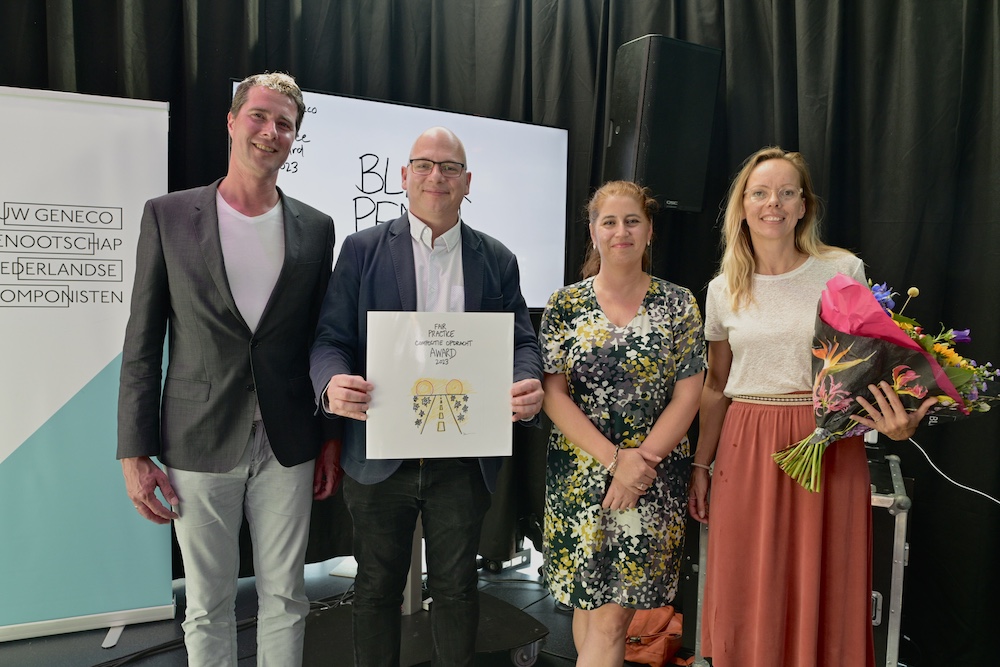 On September 8, during the Gaudeamus Music Week, Nieuw Geneco presented the Nieuw Geneco Fair Practice Award 2023 to Ensemble Black Pencil and the November Music festival for their tireless efforts and commitment to a fair and sustainable practice in new music.
Photo: Pieter Kers | image.nu
From the jury report:
Ensemble  Black Pencil  distinguishes itself by providing composition commissions for their special and challenging line-up year after year. With the Into Space project, Black Pencil gave various assignments to Calliope Tsoupaki, Arnoud Noordegraaf, Aart Strootman, Meriç Artaç, among others, in which Flevoland, Land Art and new music inspire each other, under the motto daring new country, daring new compositions . In the opinion of the jury, the project serves as an example of "think global, act local". 
Composer  Yannis Kyriakides  : "The Black Pencil ensemble asked me to write a composition for a unique and exciting occasion. In the backyard of Black Pencil – Flevoland – there are ten special landscape works of art. One of the best known is "Observatorium" by Robert Morris in Lelystad. The ensemble asked me to write a piece for the ensemble at this location. Not an easy set-up, but the project "Into Space" led by Jorge Isaac has made a very strong impression on me production-wise, financially and artistically.
Black Pencil is committed to fair compensation, transparent communication and multiple performances of brand new work at home and abroad. In addition, the ensemble also regularly resumes previously composed work, creating a recognizable and unique repertoire for a large and diverse audience on a wide variety of stages and special locations. This Ensemble thus fulfills a major pioneering role in musical life.